SOFTWARE FOR PLANNING, SETUP AND OPERATION
And all that with it – including update service!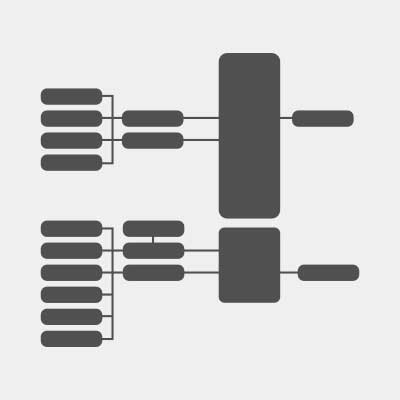 COMEXIO VISU AND APP
COMEXIO provides you with a completely customizable visualization interface. On any browser-enabled device such as smartphone, tablet or touchscreen, there are no limits to your design.
Whether simple dashboard or your own floor plan, you can control and monitor everything with COMEXIO Visu at the touch of a finger.
Ideal for Smartphone and Tablet – With our COMEXIO Visu you can create a specially adapted dashboard for each device.
So you can control lighting from your home sofa with your smartphone or tablet, or just check if your bedroom window is closed.
Your whole house at a glance – By integrating your floor plan you can visualize the whole house like in real life. The controls are in place and easy to use with a tap.
COMEXIO STUDIO – REALIZE YOUR WISHES!
How do I program a smart house? How do you like it? Smart of course! Simply drag and drop your devices together and show them what to do. The visualization in the APP for your tablet or smartphone you simply put together as you like it!
Don't be a nerd – just be a smart COMEXIO fan!
In addition to the well-known logic and computing components, COMEXIO Studio offers solutions specially tailored to building automation. In addition to the light scene module, there is also the pre-built roller shutter module, which saves you a lot of time when programming.
COMEXIO PLANNER – ONLINE COMEXIO PLANNING!
The COMEXIO planner is the perfect tool to plan the automation of your building. Use the planning tool to automatically create parts lists and distribution documentation. Whether short-term quick planning or detailed planning is up to you.
Program, test and plan all your projects, no matter where you are. Manage multiple projects on a map and share them with a partner with one click.
VIRTUAL SERVERS
Create a virtual server that offers you the full functionality of a COMEXIO-IO system. Use all possibilities of the programming interface and extend your virtual system with our system devices. Of course you can upload your settings to your physical server.
FREE REMOTE ACCESS
Remote access allows you to access your IO server from anywhere in the world. This is a free DynDNS service which is provided by COMEXIO and allows access to your server.
WHY KEEP DREAMING – WE ARE HAPPY TO ADVISE YOU!
Naturally free of charge and without obligation our team will advise you. The COMEXIO system meets
due to its open architecture and the many languages it speaks, it desires much more than most of its competitors.
Send us an email or call us!
best now!
Contact
Comexio GmbH
Eisenberger Straße 56a
67304 Kerzenheim
Germany
Phone +49 6351 – 47 804 0
Fax +49 6351 – 47 804 99
info@comexio.com