Software
✔ Controlable with smartphone, tablet & PC ✔ Free Software & APP ✔ Simple operation
With the pre-installed operating system, the COMEXIO OS, you already have everything on board that you need for a smart home. The software is divided into a user area the COMEXIO Visu, and a programming area, the COMEXIO Studio.
For Using
COMEXIO Visu and APP
Completely freely-configurable visualisation for virtually every browser-enabled terminal device such as a smartphone, tablet, computer or touchscreen. More
For Configuration
COMEXIO Studio
The powerful software sets no limits to your imagination and enables you to program easily using drag and drop.More
Easy operation
Whether a simple dashboard or floorplan, with Comexio Visu almost everything can be controlled and monitored at the touch of a finger.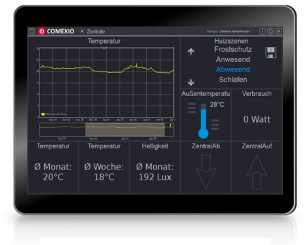 Ideal for Smartphone and Tablet
With our Comexio Visu you can develop especially adapted dashboards, not only for your smartphone but also for your tablet. In this way you can then control the lighting in your home from the sofa or see whether the window in the bedroom is closed.
The whole house at a glance
By integrating a floorplan you can visualise the whole house just like in real life. Here the actuators are in the right place and can be operated easily with a touch.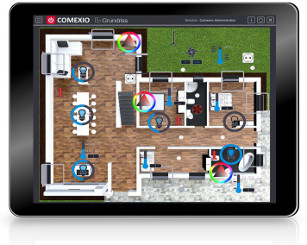 Easy programming
With the probably first and most comprehensive browser-enabled function plan you can implement and link virtually any requirement easily using drag and drop – and can so it live and from any location. There are no limits to your imagination.
Pre-assembled modules make life easier
In addition to the familiar logic and processing modules, Comexio Administration offers solutions especially tailored to building automation. For example, apart from the light scenes modules, there are also more complex modules such as roller shutter control, with which you can do a lot but don't have to do much.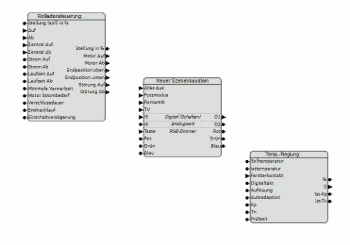 Visualise like a professional
Creating suitable visualisations is just as easy as programming the functions. Simply upload the floorplan and drag the required elements onto the relevant places. Dashboards are perfect, especially for the smartphone. Here the elements can be arranged clearly in the grid, for example; to control the roller shutters or to know how warm it is at home, in order to start up the heating punctually.
COMEXIO Planner
The Comexio Planner is the perfect tool for planning and designing the automation of a building. Use the quick planning tool to prepare or quotations at short notice or detailed design of the automated creation of parts lists distributor documentation. You can create a parts list or documentation in only a few minutes.
Features at a glance:
Quick Planning
Detailed planning
Preparation of documentation
COMEXIO Manager
Program, test and plan all your projects from any location.
Easy management of your projects
Manage several projects on an intuitive map and share them with a partner with a click.
Virtual Server
Create as many virtual servers as you want, which offer the full functional scope of a Comexio system. That means full programmability and fully extendable, just like a physical system, only virtual. You can of course also load the virtual programs onto a physical server.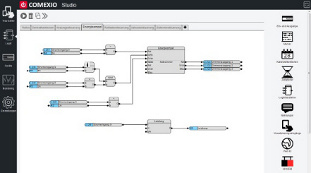 Cost-free remote access
With Comexio Remote you can access your IO server from anywhere in the world, free of charge. What is Comexio Remote? Comexio Remote is a free DynDNS service which is provided by Comexio and enables access to your server from the whole world.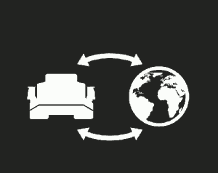 All onboard! Updates free!
On each server, the software COMEXIO OS is preinstalled. In the software everything is included what an intelligent building needs for programming and use. That means for you: You just need a server to get started.
100% browser support
COMEXIO already offers full browser support, i.e. everything can beprogrammed and displayed using a web browser.From almost anywhere and using any device that has a browser. No further software is required. Irrespective of whether Mac, Windows, Linus, PC, smartphone or tablet. Of course, everything also works locally whitout the internet.
Numerous interfaces included
The software supports besides IP components, KNX and 1-Wire also many other interfaces such as S0 counter, EnOcean radio and includes a flexible API interface which simplifies communication with external systems.