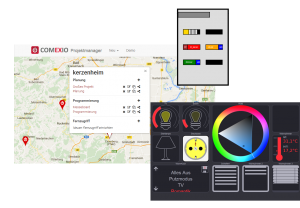 Easy management of your projects
Manage several projects on an intuitive map and share them with a partner with a click.
Virtual Server
Create as many virtual servers as you want, which offer the full functional scope of a Comexio system. That means full programmability and fully extendable, just like a physical system, only virtual. You can of course also load the virtual programs onto a physical server.
Cost-free remote access
With Comexio Remote you can access your IO server from anywhere in the world, free of charge. What is Comexio Remote? Comexio Remote is a free DynDNS service which is provided by Comexio and enables access to your server from the whole world.
Comexio Planner
The Comexio Planner is the perfect tool for planning and designing the automation of a building. Use the quick planning tool to prepare or quotations at short notice or detailed design of the automated creation of parts lists distributor documentation. You can create a parts list or documentation in only a few minutes.