7:00 a.m.
The alarm's ringing. The blinds open with the first rays of the sun. The bathroom is pleasantly warm
8:15 a.m.
You leave your house in a good mood.
At the push of a button you switch off the complete lighting and all the desired appliances. Open and close the garage door with your smartphone.
Your house now recognizes that it is alone and takes care of itself: Motion detectors, door and window contacts become active. The outdoor shading is adjusted as required. It protects the windows from rain and regulates the incidence of light depending on the room temperature. The heating is reduced to save energy.
4:00 p.m.
Your house awaits you after work. The heating is raised to reach your comfort temperature when you arrive. You can also use your smartphone to control the heating when you're away from home if you're coming home earlier than planned.
5:00 p.m.
You come home, the courtyard entrance is illuminated and the light in the hallway switches on for reception.
6:00 p.m.
Time to feel good. Light colour and intensity adapt to the evening. The living room lighting is dimmed and annoying lamps reflected in the television set are switched off.
7:00 p.m.
After sunset, all blinds are lowered. The garden lighting switches on.
8:00 p.m.
The bathroom is warm again, the bedroom is optimally tempered. The automatic watering system will supply your plants for a short time.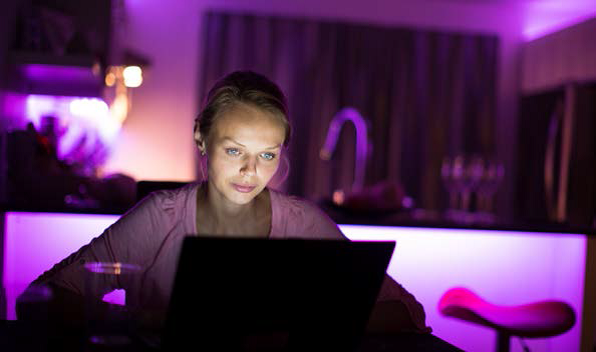 10:00 p.m.
The house goes to sleep with you, turns off the lights, garden lights and other appliances. The motion sensors and the door and window contacts take care of you…