COMEXIO QUICKBUS
Simple, Fast, Efficient.
COMEXIO QUICKBUS
–

In case it has to go fast.
With the new Quickbus, COMEXIO fulfills a long-awaited customer wish. A simple and flexible way to integrate pushbuttons and sensors into the system without extensive cabling. The Quickbus starts with the COMEXIO Multi-Bridge and picks up speed with the COMEXIO Quickbus end devices.
Less cable work
On the sensor side, you save up to 80% cable.
Quickbus
Six times faster than KNX.
Future-proof
The wiring topology remains future-proof, as it is similar to EIB/KNX.
Plug & Play integration
The integrated Plug & Play function minimizes the programming effort and guarantees a fast commissioning.
Economical
COMEXIO Quickbus can achieve cost savings.
Wiring topology.
The COMEXIO Multi-Bridge makes it possible to start with three different Quickbus lines. With a line of at least four wires running from one Quickbus terminal to another quickbus terminal, enormous flexibility can be achieved with minimal cabling.
You have the option of wiring the Quickbus devices flexibly. We recommend wiring in line because it is cost-effective and easy to implement. However, it is also possible to wire Quickbus devices in a star. Up to 20 Quickbus devices with 20m cable each can be used in the star.
Line topology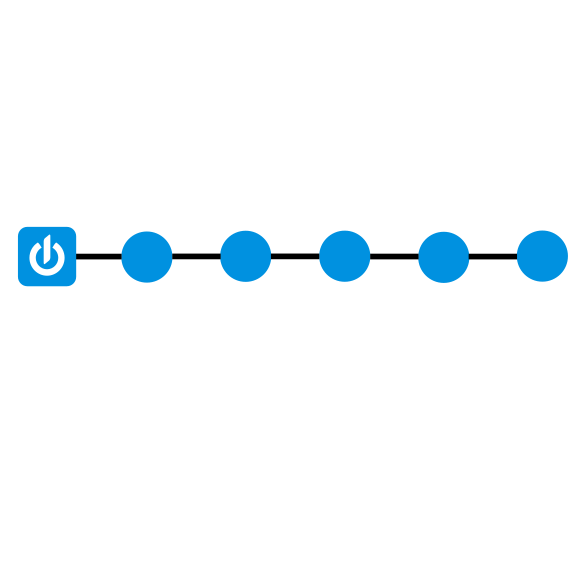 Star topology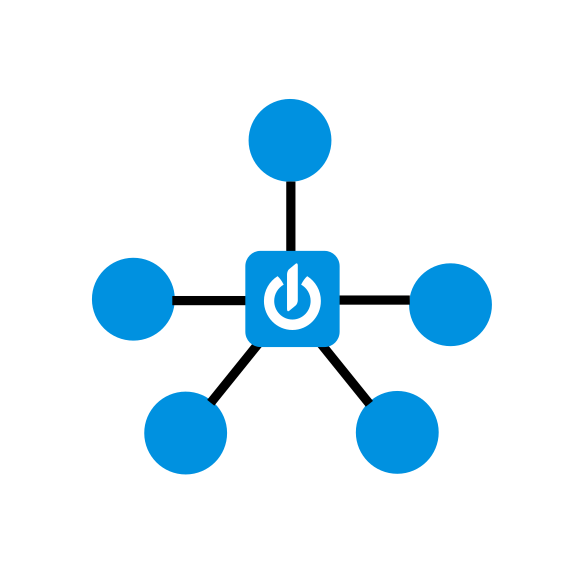 Tree topology
Completely rethought. COMEXIO Multitouch is an innovative unique operating concept. With 20 different swipe gestures you have your smart home under control. The acoustic signaller or the integrated RGB lighting provide your individual feedback. Through the integrated temperature and humidity sensor, you have all the necessary data always in view.

The smart motion detector. COMEXIO Motion not only allows you to activate a light scene, but also gives you security and helps save heating costs at the same time. The 5-in-1 device is ideal to provide maximum comfort in your smart premises, with minimal effort. Thanks to the motion detector with integrated brightness, humidity and temperature sensor as well as acoustic signal generator, you have everything in just one device.
With the COMEXIO Digital Input, we offer you a solution with which you can simultaneously achieve enormous flexibility with a low cable volume. You can use your preferred switching program in your smart home or easily integrate window contacts without being overwhelmed by the cable dimensions.

Discover our innovative button.
Enjoy COMEXIO Quickbus.
COMEXIO has developed a highly simplified bus system that significantly reduces commissioning costs and is still very powerful and flexible in use. Convince yourself of the innovative COMEXIO operating concept.
Frequently asked questions
Up to 40 devices can be connected per channel/line, but 100 devices in total per Multi Bridge.
The maximum cable length should not exceed 180m (e.g. CAT7).
The wiring should be carried out in line. This means from Quickbus device to Quickbus device. A total of three independent lines can be implemented. However, it is also possible to wire Quickbus devices in a star. Up to 20 Quickbus devices with 20m cable each can be used in the star.
The stored Plug and Play function allows the pushbutton to be assigned to function plans. This then automatically controls the scene module, shutter module and room temperature controller and works immediately with the defined swipe gestures.
You need at least four wires and can use Cat 7, J-Y(ST)Y or an EIB/KNX bus line.