The IO-Server
The powerful center for your home, almost all inclusive, see for yourself
Powerful software included
Simple programming
KNX-compatible
Full-value home server
Consumption measurement in every channel
Freely extendable
The COMEXIO IO SYSTEM is the fully browser-enabled system for your inexpensive introduction to an intelligent building. You can start with an IO server, which carries out all control tasks.
In this way Comexio offers numerous areas of use, from controlling the roller shutter blinds and heating, to switching the lighting and electrical equipment on through to efficient energy management. The use options are almost limitless!
Hammer, gibt nichts besseres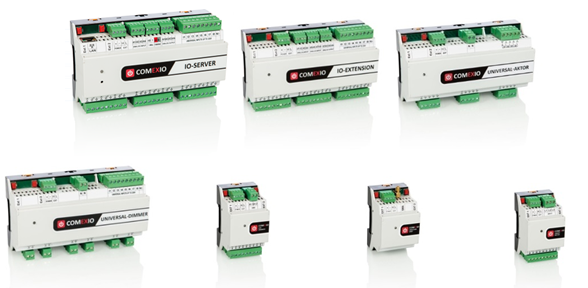 The COMEXIO server can be extended as required using numerous extensions. You can also connect several servers together in a network via IP. COMEXIO is therefore ideal for projects and buildings of any size. Furthermore COMEXIO is compatible to a lot of other systems

KNX-compatible
Integrate, e.g. EIB/KNX sensors and push-buttons in COMEXIO or add logic functions and data displays to existing installations. By the way, your can also use COMEXIO as an EIB/KNX IP gateway for programming.
Unique hardware
The IO is perfectly harmonised with practice, is flexible in use and makes it possible to connect directly conventional sensors, scanners and actuators. Universal inputs for different voltage levels, floating relays with current measurement and inputs and outputs that can also be used digitally, e.g. for canners, make possible usage that is completely flexible.
Light, heat, energy and safety are largely controlled by the COMEXIO system. However, you can also intervene at any time using a smartphone, computer or tablet. Even on the move!
Different sensors and you, of course, provide the COMEXIO system with information.
It processes this information according to a logic circuit fixed by you and puts different processes into motion.
Ingenious system, unthinkable many possibilities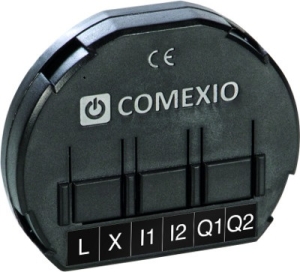 Soon you can install Comexio also in existing buildings. We will inform you when the time comes.
COMEXIO Visu and APP
Completely freely-configurable visualisation for virtually every browser-enabled terminal device such as a smartphone, tablet, computer or touchscreen.
Implement almost any requirement simply via drag and drop live and from any location. There are no limits for your imagination.
Energy monitor/ smart metering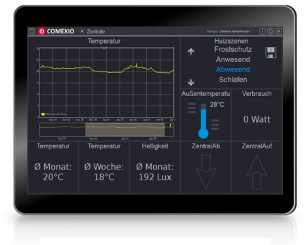 Make your power and energy consumption transparent with the powerful, integrated monitoring tool. In combination with a Smart Meter Comexio is a adequate energy management system.
 Current measurement in every channel
All COMEXIO components have as standard an integrated current measurement in every switching and dimming channel that permits not only the graphic depiction of current and power. It also provides completely new functions such as the detection of faulty lamps, checking whether the washing machine is still running or the shutter has hit an obstacle, and much more…
To much Information? Here Comexio is

simply explained

again!
Great Support! Don't leave you in the lurch with problems!
Powerful software included
Simple programming
KNX-compatible
Full-value home server
Consumption measurement in every channel
Freely extendable
Only
414 Euro
exclusiv of VAT
[product_slider id="5458″ links="yes"]
Questions?
Just an email to support@comexio.com