1-Wire
1-Wire is a very low-cost bus system, which was mainly developed and used for the acquisition of temperature values.
Example: Pre-assembled 1-Wire sensor. Flexible use, from the hollow wall socket (behind the switch) to the outdoor area.
Advantages
Easy setup via Plug and Play
Low cost
Minimum power consumption less than 1mW
Flexible cable laying
Characteristic data
Up to max. 32 sensors can be connected to one server.
Max. Total cable length 150 m
Various wiring topologies: star, line, tree structure
Connection
5V supply voltage
data cable
GND
Wiring
Optionally, 1-Wire can also be used in "parasitic mode", i.e. in 2-wire operation. Then the sensor uses the data line as power supply. In this case, however, a maximum of 20 sensors can be used for a total of 50 metres.
When connecting the sensors, it is essential to pay attention to the colour coding on the label. This can deviate from the picture.
Star wiring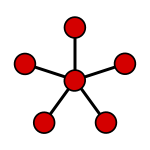 Max. 10 sensors with max. 100m in total
Line with short branches
Max. 32 sensors with 150m in total
Tree structure
Max. 25 sensors with max. 100m in total
Ring topology is not allowed!